Sunday, 6 June 2010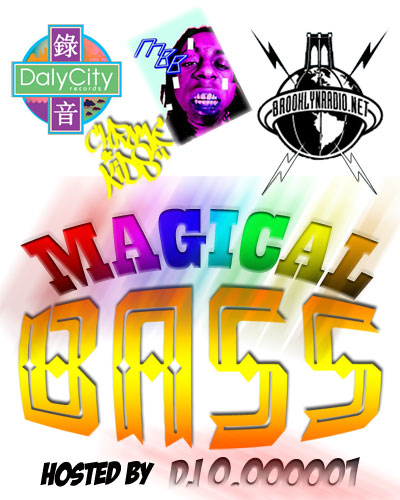 In association with Daly City Records, Chrome Kids, Man Bites Blog, and Brooklyn Radio,
DJ 0.000001
's Magical Bass is in a realm of its own. Rather than just a radio show, Magical Bass should properly be considered a unique musical composition, painstaking sequenced and remixed, with the utmost attention to detail and optimal sound quality.
Episode two features
Glitch Mob
,
Mochipet
,
Gorillaz
, Too $hort, A-Trak and more, chopped, sliced and layered like you've never heard before!
You can also visit the
Magical Bass SoundCloud page
where listeners can download high quality MP3's of each episode (minus the voiceovers) as well as many of the individual tracks featured in each show!
You can stream or download right now, or if you prefer, you can access and subscribe to the show via RSS (podcast) or iTunes.
Magical Bass on Brooklyn Radio
Magical Bass on SoundCloud
Magical Bass/Daly City RSS Feed

Daly City/Magical Bass iTunes Feed
Posted by

Doc
at 10:10
1 comments


Tuesday, 1 June 2010
I've started contributing to
Spiral Arm
. A new blog about, like, culture and shit. It's a collaborative project between myself and some like minded persons. Fret not, the podcast shall continue. I will strive to produce episodes at an equally irregular rate as I have been. This is not a goodbye, its a ''Hey have you met so-and-so, he works in...''. An introduction is what this is. I introduce to you.
Spiral Arm
and, I hope you to get along.
Posted by

Nico
at 16:23
0 comments